The weather is perfect right now for you and your pup to explore Hong Kong! A friendly hike, a picnic in a park, zoomies on the beach, chilling in a cafe, dining in a restaurant? We've got you covered in our list of our favorite dog friendly places for you to take your pup on a doggy date! Maybe we'll bump into you one day :D
Hikes
High West, Hong Kong
You can start off your hike from multiple points, but I prefer to start at Hatton Road.
Get to Hatton Road by taking the Mid-Levels escalator all the way to Conduit Road, turn right and keep walking all the way to the end.
Follow the path up Hatton Road and keep hiking up until you reach the Hatton Road Public toilets. You can take a quick breather here before you start the ascent to the High West Summit.
To access the path to the High West Summit, walk past the exercise equipment by the park until you reach a staircase going down. (Yes we know, we should be going up!)
Follow the path after the staircase and you'll reach a large empty area with benches. On the left of this is a set of stairs that will take you all the way up to High West (around 8 minutes).
Once you reach the top, you will see the beautiful views of Hong Kong and Kowloon, with signs showing you the landmarks this city has to offer. Pro tip for hikes - check the weather first!
After taking in the views, head back down the same way until you reach the exercise area again. Here, you can decide if you want to continue walking to the Peak or you could head back down to Hatton Road. My recommendation would be to walk to the Peak and check out the restaurants in the area (Rajasthan Rifles is a personal favorite!), and you can either walk back the way you came or take a taxi back home after a nice hike.
Walk along Conduit Road and walk up the road (Hatton Road) on the left
Exercise park (walk through and keep right)
Follow the signs to High West! You've arrived!
Helpful signage - almost there!
Great views!
Parks
Getting to Penfold Park might not be the easiest if you don't have access to a car, so we'll give you two choices for this section!
Penfold Park, Sha Tin, Hong Kong
https://www.instagram.com/p/CYdmX68vtun/
https://www.instagram.com/p/CS8GmgkHj7P/
Penfold Park is an amazing park for you and your furry friend to run around and meet others! This park is located within the Sha Tin Racecourse, and is open to the public on non-race days from 9am to 630pm
https://charities.hkjc.com/charities/english/jc-community-facilities/penfold-park.aspx 
Cyberport Waterfront Park, Cyberport, Hong Kong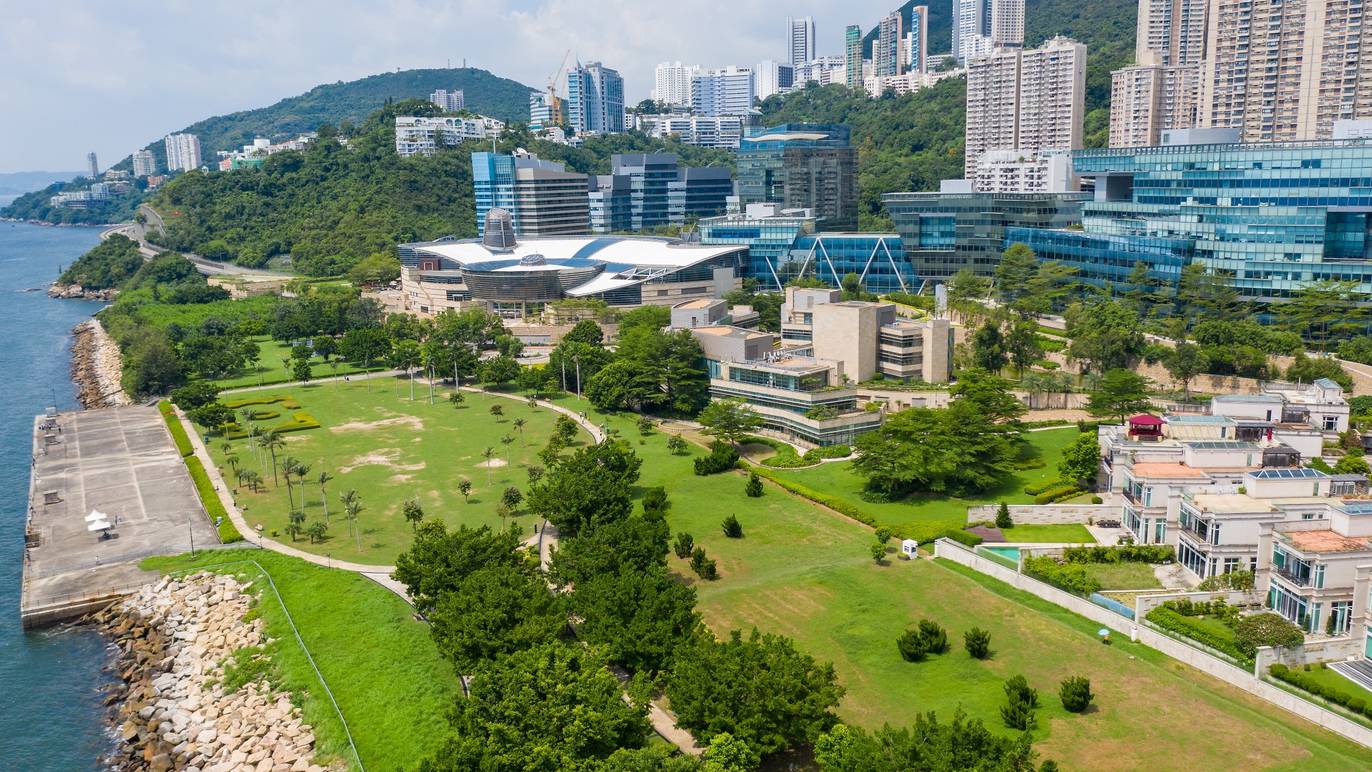 Source: Shuttershock
This is another park with a large grassy area to let your pet loose, gather with friends for a picnic, and soak up the sun! There are public taps available should your pawtner get thirsty! This park is open daily from 7am to 11pm
https://www.cyberport.hk/en/facilities_and_services/waterfront-park
Beaches
Shek O Beach, Shek O, Hong Kong
https://www.instagram.com/p/CYbVuFPBv3Z/
Shek O beach is accessible by taxi, and is a great area for your pup to run around. After an afternoon at the beach, you can even head over to Cococabana for a bite before calling a taxi back out to the city!
Cafes/ Pet shops
BYOP, SoHo, Hong Kong
https://www.instagram.com/byop_hk/
Wouldn't be right if we didn't include ourselves! :p Our Pawdega is open from noon on Wednesdays and Fridays, and from 11am on Saturday and Sundays! Pick up some of your pup's favorite treats, toys, even an ice cream to cool down… while you, hooman, can enjoy BYOP's curated selection of beverages - both alcoholic and non-alcoholic!
Detour, Sai Ying Pun, Hong Kong
Detour is a dog friendly neighborhood coffee shop in Sai Ying Pun that offers a great selection of coffee and breakfast meals. It's an ideal spot if you want to work from a coffee shop with your favorite companion!
https://www.instagram.com/detour.coffee.wine/?hl=en
Restaurants
The Pulse, Repulse Bay, Hong Kong
Located on the edge of Repulse Bay Beach, The Pulse has a lot of restaurants that are dog friendly. My top picks? Limewood and Sip Song, they will always welcome you and your pets for a nice meal by the beach!
https://www.instagram.com/limewoodhk/?hl=en
---